A feeling we may not be long for this world
29th October 2019
by Mike Curtis
Many original feature articles are regularly published in Air Mail magazine. This one focuses on Association member Ivan Farmer, who was a technician on THOR ballistic missiles during the height of the Cold War. To receive more articles like this, sign up to become a member of the RAF Association and make sure to opt-in to receiving Air Mail.
Three days after Christmas 1958, Ivan Farmer was in Leicestershire looking forward to spending New Year with his new girlfriend Margaret. He was at home, on leave from his work at an RAF base in East Anglia when a telegram delivered by a Post Office rider on a red BSA Bantam motorcycle ended his time off and ensured that suddenly there was an Emily in his life as well as a Margaret.
The telegram read: `Return to Unit immediately, posted to USA`. Ivan, who eventually married Margaret, had been chosen to participate in `Project Emily` — the codename for the deployment on UK soil of the American Thor intermediate-range ballistic missiles, with their thermonuclear warheads.
Four years later, the world held its collective breath as the United States and the Soviet Union confronted each other in what became known as the Cuban Missile Crisis. The tension was especially tangible at the 20 Bomber Command squadrons operating the Thor missile — which were brought to full readiness during the 13 day standoff.
Ivan had joined the RAF as a trainee aircraft electrician and by the end of 1958 he was working at RAF Watton in Norfolk as a Junior Technician. After receiving the telegram cancelling his leave, he embarked on the tortuous rail journey back to Watton only to find his section closed. Ivan eventually found a lonely Flight Sergeant who told him to report to RAF Innsworth near Gloucester the following day.
Another rail journey with numerous changes got him to Innsworth two days later where he learnt more about Project Emily. Ivan was among 30 personnel going to Milwaukee. He would train on the Thor missiles which were being introduced to RAF service at bases in East Anglia, Lincolnshire and Yorkshire. The project was funded by the Americans but any launches were under a dual key process in which both the United States Air Force (USAF) and the Royal Air Force had to insert their own key in the system.
"I thought we would be going to the USA in a noisy RAF transport aircraft but we had a big surprise", says Ivan. "We were told to report to Southampton as we would be crossing the Atlantic on the Queen Mary Cunard liner! There followed an experience that has stayed with me ever since. It was incredible for a bunch of lads in their early 20s: there was great food, great service and great entertainment on the ship. It was a taste of travel as it used to be experienced by people on a sounder financial footing than me!"
In New York, they stayed in a hotel for three days before six of them boarded a train to Milwaukee via Chicago. They spent the next four months learning how to work on the Thor missiles. Away from the base, they had a steep learning curve as well. There was no military accommodation nearby so they had to do their own cooking and cleaning – domestic chores, which Ivan says were somewhat alien to them.
"It was pretty much an adventure. We got a generous daily cash allowance from the US government", says Ivan. "We were something of a novelty there and travelling out to the training base on the buses inevitably got us involved in conversations, often with veterans who had spent the Second World War in the UK. Likewise when we went out for a few beers, we were sure to be royally treated".
Thor and Blue Streak missiles on display at the National Space Centre in Leicester. © National Space Centre (Blue Streak on loan from National Museums Liverpool, World Museum, Blue Streak Missile Guidance Bay (nosecone) on loan courtesy of National Museums Scotland).
The training was intense and Ivan felt he was somewhat misplaced as an electrician. However two RAF Chief Technicians helped him with the maths and the gyroscope theory as he got to grips with the missile guidance system. He says that the Thor was actually easy to work on – and described the American engineering as 'excellent'.
After a return trip to the UK on another Cunard liner (the second RMS Mauretania which was launched in 1938 and scrapped in 1965), Ivan reported to RAF Feltwell which was home to 77 Squadron and was the parent station for four other Thor launch sites. Building work on the launch pads had started some months back and the missiles were gradually being flown into the UK in the cargo holds of USAF transport aircraft. Ivan rarely went near the launch pads and spent most of his time working on the guidance systems in one of the hangars.
"There were practice countdowns to launch on a regular basis. Most were `dry` counts up to the refuelling point", recalls Ivan. `Occasionally there were `wet` counts when the missiles were loaded with fuel. Once the fuel was in the missile, there was four minutes to launching it. There was a USAF captain on each site and an RAF launch crew under a Flight Lieutenant, usually aircrew on a ground tour. Of course we were not allowed to talk about what we did on the base, having signed the Official Secrets Act."

"The Cuban missile crisis did change the atmosphere at RAF Feltwell and the other Thor bases. It was the same for everyone at the V-bomber bases too", says Ivan. "You took it in your stride but there was a feeling that we may not be long for this world. We tried to keep up with it through the radio and the newspapers. We were put onto 12 hour shifts and they doubled the number of safety officers to certify the valid launch codes. There was one lengthy `operational hold` during the confrontation. It was a very tense period. In the village, the local landlord complained that his pub was empty as no one came in during the crisis!"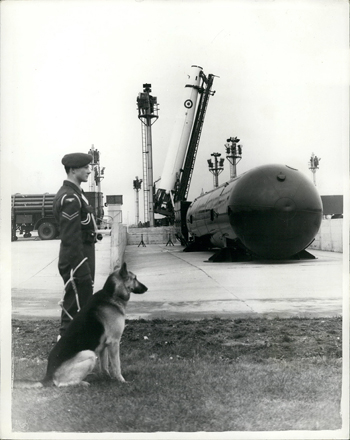 Ivan did witness one actual launch of a Thor missile. Every so often, one UK-based missile was selected at random, loaded onto a transport aircraft and flown to Vandenberg Air Force Base north of Los Angeles. There it was checked over to ensure that it was being maintained correctly and then it was launched. Ivan was among the crew that accompanied one of the Feltwell missiles on a test trip. It worked but was 0.3 miles off target, which was deemed acceptable at that time.
"I look back with some pride on the way that the RAF coped with the THOR project", said Ivan. "At that time missile technology was in its infancy but the service rose to the challenge and the personnel of all ranks and trades assimilated the new technology which was alien to nearly everyone. Then four years after the missile was deployed in 1959, we heard a news flash that the Thor was to be withdrawn".
The rundown of the Thor force took about six months with the final stand down in September 1963. Ivan, who was one of the last to leave RAF Feltwell, was posted to RAF Scampton to work on the Blue Steel nuclear missile which was carried by RAF Vulcans and Victors. Later he worked as an electrical instrument technician on Nimrods at RAF St Mawgan and RAF Luqa in Malta and qualified as an RAF gliding instructor. He worked on Canberras at RAF Cottesmore before leaving the RAF as a Chief Technician in 1977. Ivan then had a successful career as an engineer, sales executive and consultant with a Leicester-based precision engineering company which took him around the world.
Ivan and Margaret were married before the Cuban missile crisis, and were together for 58 years before Margaret passed away. They settled in Leicestershire, not far from another former Thor missile base just south of Melton Mowbray, where they raised their son and daughter before also becoming grandparents. The brickwork of the Thor launch pads can still be seen today on the old airfield at Melton Mowbray. Ivan is still involved today at Melton Mowbray Branch.
The Cuban missile crisis was a political and military confrontation between the United States and the Soviet Union which lasted for 13 days in October 1962. The Soviet Union, led by Nikita Khrushchev, installed nuclear missiles on the island of Cuba, just 90 miles from the United States. President John F Kennedy ordered a naval blockade of Cuba and made it clear that the United States would use military power to neutralise this perceived threat. The world feared that this confrontation could prompt a nuclear exchange between the two superpowers.