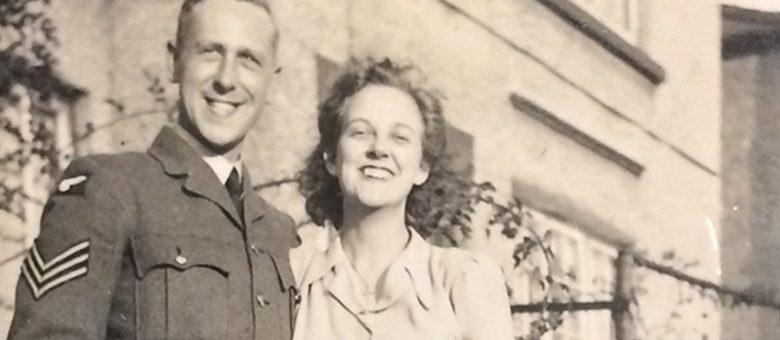 Reuniting Ric
23rd January 2020
Many original feature articles such as this one about Joy and Ric are regularly published in Air Mail magazine. To receive more articles like this, sign up to become a member of the RAF Association and make sure to opt-in to receiving Air Mail.
"Joy, my sweetheart, I do miss you more than I can say and I'm longing to be with you again. You know that don't you?" These were the words of Ric Wilkinson to his new bride Joy, recorded in October 1945 but unheard for decades. Below is the story of how we reunited Joy with Ric's voice.
A fragile Voices of the Forces message was handed in to Flowerdown House, the RAF Association's Wings Breaks hotel in Weston-super-Mare, by a member of the public. Discovered in the eaves of an attic during a local house clear out, it was brought to our hotel and eventually to our head office.
The only written clues we had – an old address and a name using the style of the husband's initial when addressing a wife. The wife's name on the record was obliterated by crackle and scratches. ©RAF Association
We struggled to find a record player that could play the 78rpm* record. There was limited information about the sender, Ric. The audio was so crackly we couldn't tell who the recipient of the record was and, crucially, how we would ever reunite the record with its rightful owner.
Then we had a breakthrough; we found a musician with a record player that was not only able to play the recording, but also digitally record it so we (and any remaining family) could listen to it again and again. After so many years of silence, the message from Ric to Joy was finally heard again:
"Darling, today is Monday 15th October 1945 and here is a special message for you from India. I hope this record reaches you before our first wedding anniversary.

"Oh my darling, how I would love to celebrate November 21st with you in Salisbury. Maybe we could visit the back of beyond and then cycle to Heale Bridge by moonlight. Wouldn't it be fun?"

Joy my sweetheart, I do miss you more than I can say and I'm longing to be with you again. You know that don't you? On the anniversary of our D Day, I'll be thinking of you very specially. Those 21 days of heaven were much too short, but they've left us with so many beautiful memories.

"Keep smiling sweetheart. Are you listening? I do love you, goodbye for now. God bless.

"All my love darling, always your own husband, Ric"
Listen to the recording below
To celebrate, the recording was played in an RAF Association headquarters team meeting, and brought tears to many eyes. We knew we had to try and reunite any living family with the record before it was too late.
The Association got in touch with the BBC's One Show with all the information we had on the recording, as well as that all important digital recording of it. We were hoping they and their huge audience could give us clues to who might have made the heart-warming personal message. The response and support from their viewers was overwhelming. Within minutes our email and social media inboxes were flooded with thoughts on who Ric might be and #FindRic was 'go!'
Sadly we discovered that Ric had passed away many years ago. But his wife, Joy – the original recipient of the record – was living a very full life at RMBI Home Cadogan Court in Exeter. Her amazed family got in touch with The One Show. Within days, the Association was heading down to Exeter with a film crew, to bring the record and Joy back together.
Joy was delighted. She revealed it wasn't the only time that she'd received a postal record from Ric: "He sent one when he was coming home, to tell me which ship he'd be coming home on. But the recording was bad and it started to repeat itself." The fragility of these records really brings home how precious communication was during and after the Second World War as families tried to keep in touch with their serving loved ones.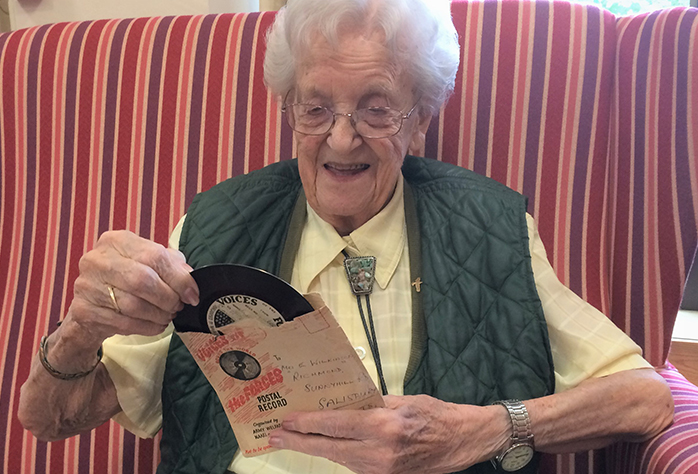 Joy holding the record for the first time in decades, after hearing Ric's voice once again. ©RAF Association
She told us that the couple had met at a tuck hatch canteen in Salisbury where Joy was working. Romance blossomed quickly and they were soon engaged to be married, setting a spring date. Then Ric was told that he had embarkation leave and would be deployed very soon. They discussed bringing the wedding forward, with Joy saying Ric had wanted to get married the next Monday, to which she replied: "I can't make it by Monday, we'll have to have it Tuesday!" With the help of friends and family the wedding went off without a hitch and they honeymooned in Blackpool before Ric was sent away.
Being apart from her husband after only 21 days of marriage was difficult for Joy and she worried about him while he was away. Through letters and the occasional postal record they were able to keep in touch during his deployment. When Joy found out she would be reunited with the record she had long forgotten she said: "It didn't upset me at all. It turned my heart a bit – I've been without him so long." Clare Walker, Business Relationship Manager at Joy's care home said, "That will now bring back memories for Joy for months".
Thank you to The One Show, their viewers and amateur genealogists and our members for being so thorough in their research and so supportive of our efforts to find Ric's family and bring them and this record back together.
*for our younger members, rpm means revolutions per minute – how fast a record went round on a turntable. We understand the last mass produced 78rpm record was released in the UK around 1959/1960.
"Put your message on record and send it home" – Voices from the Forces in the 30s and 40s.
With today's smartphones, Skype, FaceTime, and personal live streaming it's hard for younger generations to imagine how out of contact members of the RAF and other armed forces felt when they were deployed overseas for years. Their families at home ached for information about them. Members who served the 1930s and 40s will remember the Entertainments National Service Association (ENSA) Voices of the Forces records which were used by thousands of servicemen to send voice recordings home to their nearest and dearest. The sender would record their special message to loved ones in the specially set up recording rooms at Navy, Army and Air Force Institutes (NAAFI) clubs overseas. Servicemen were given the option of reading from a prepared script or choosing some stock phrases, up to a total of just 180 words – barely more than you can get into a tweet today. The voice was recorded directly onto the disc, before being placed into a special envelope and posted home. The fragile disc, only five inches across and weighing less than half an ounce (around 14 grams) could only be played a maximum of 200 times before the quality degraded.
Now the Association's welfare team provides a range of different support to help people stay connected, from Storybook Wings recordings to the Wings Doodle Boxes, and from wi-fi on UK stations and bases to our Wings centre and Wings cafés around the UK.
Please note: while it was wonderful to be able to reunite Joy and her family with the postal record, the RAF Association does not have the capacity to do this with any more artefacts and mementos. If you have a piece of history that you want to find out more about, or to start your own research we would recommend getting in touch with the following places:
The National Archives, Ancestry, findmypast, Forces War Records and other archival and genealogy websites, groups and institutions.